24 June 2023 , by Consolevariations
Welcome to consolevariations.com 3.0
Check out all the new features and updates the brand new site has to offer!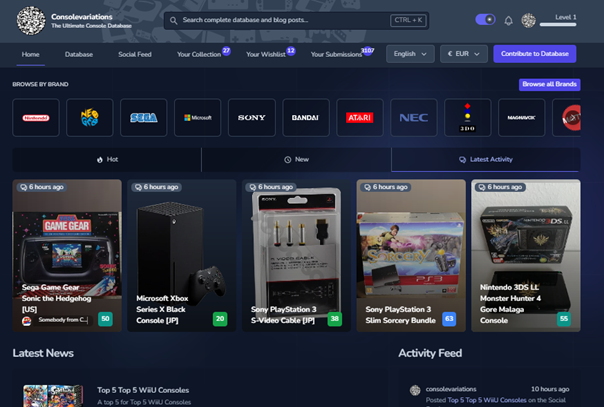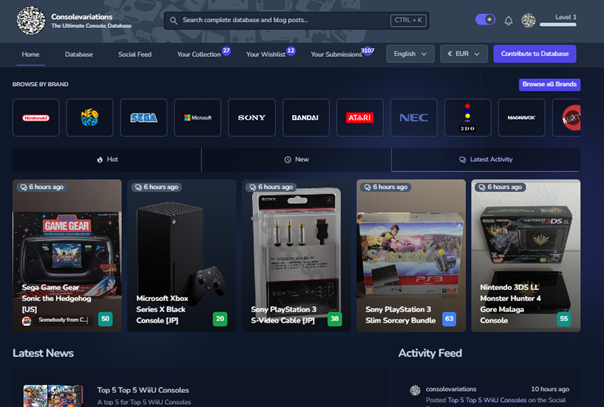 Over the past few years consolevariations.com grew from being a hand-made console guide to one of the biggest and most detailed online console databases in the world. We could never have done this without our amazing community! We received a lot of feedback on how to improve CV to make it more easy to use and better for everyone. After more than 14 months of development here is CV 3.0!
Home Page
Users have a great overview and can see everything on one page:
DARK MODE: Maybe the most asked feature of them all, and we made sure the entire website is in "light mode" as well as "dark mode".

SLIDER MENU: We changed the brands into a slider, so more brands can be added without effecting the website's layout.

NEW MOBILE VERSION: We completely revamped the mobile version of the site. The navigation is easier than ever thanks to the new bottom navigation bar.

ACTIVITY: Hot, New, and Latest Activity. Here users can see rare items that are popular, see a top 5 of recently added variations, and also be up to date with comments/reviews and rating of other variations.

LESS CLICKS: With the new button layout, it will take less clicks to be on any page on the site.

GLOBAL SEARCH BAR: On top of the page, we have a search bar that makes navigation even better
Searching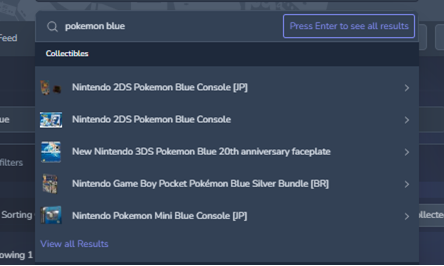 We completely changed the search function! Previously it was only possible to search for consoles. But now the search results include everything, including blog posts!
SHORTCUT: You do not have to scroll each time you want to search for something. On desktop you can simply press CTRL+K to open the search bar directly on any screen.

SPEED: The search is faster than ever and can show samples while typing and directs you immediately to the details page.

DATABASE SEARCH: It is now also possible to search inside the database for more detailed search results.
Database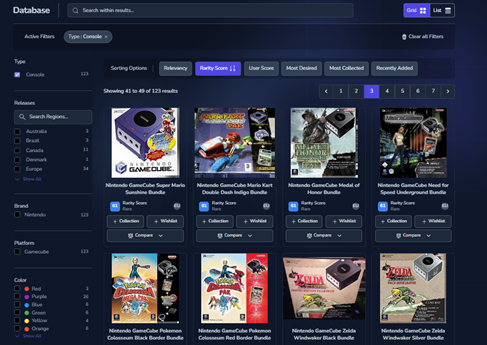 The most used feature on the site requires the most attention, especially on mobile!
SORTING OPTIONS: We have more sorting options and it's possible to sort with 1 click instead of 2.

VIEW: Both Grid and List results are fully re-designed and look much better on desktop and mobile.

COMPARE: Another new feature is the "Compare" feature! Where users can compare 2 or more variations and check their specifications and rarity.

FILTERS: Filters have been improved for both mobile and desktop.

SEARCH: As stated before, it's possible to search within the database itself now.

Development kits are now separate from Prototypes.
Details Page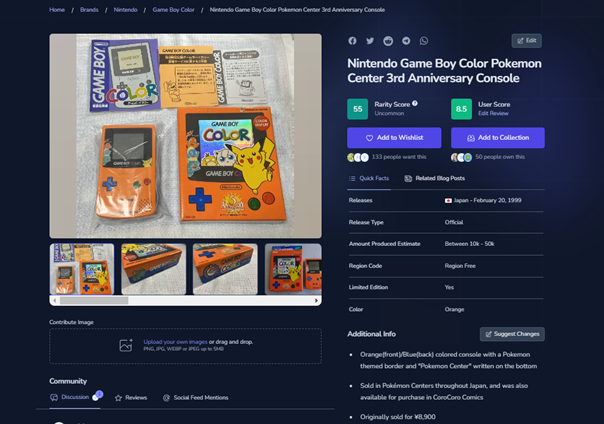 The heart of CV. We made it as good as it can get.
MOBILE: We completely revamped the page on mobile.

IMAGES: The pictures are now much bigger than before.

DATA: More information fits on the details page without "hurting" the page's layout.

REVIEWS: The community can leave comments as before, but now also reviews!

RELATED OPTIONS: Every variation now has a matching "related" page with more and accurate results.

MORE SPACE: We have more features added next to the "Quick Facts" Tab

CHECK AVAILABILITY: The links to check if a variation is available are now improved and assigned per region. More links will be added in the future.

SUGGESTIONS: "Suggest changes" now has a better format to let us know which adjustments should be made.
Social Feed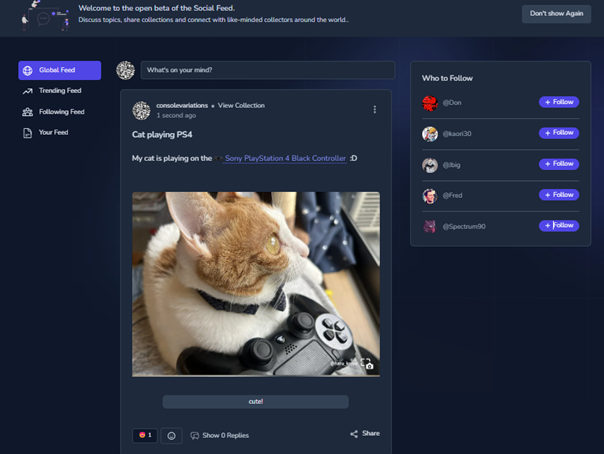 We added an entirely new platform feature to the site that we call "Social Feed". The biggest request we had was that the community could communicate outside a specific variation or their profile and we made this possible. This is still in a beta stage, more features to come!
POSTING: Users are now able to post any post on the social feed regarding what they bought, showcase the game room, ask questions, or post a story in how you have obtained a rare item. Or anything else.

TAGGING: It's possible to tag other users (with @)

LINKING: It's possible to link to a specific detail page (with #)

FOLLOWING: Your friends can follow you and see your posts first and vise versa

ANTI SPAM: Of course we have an anti-spam filter, and users are able to report any unintended content.

MULTIPLE FEED TABS: It's also possible to check all post regarding a specific brand or platform. For example: If you only want to see posts regarding "Xbox", that is possible.

SEE COLLECTION: It's possible to click on a user that has posted something on the social feed and see their collection (if they added it)

SUMMARY: All social feed posts are shown in a little summary on the homepage.
Your Collection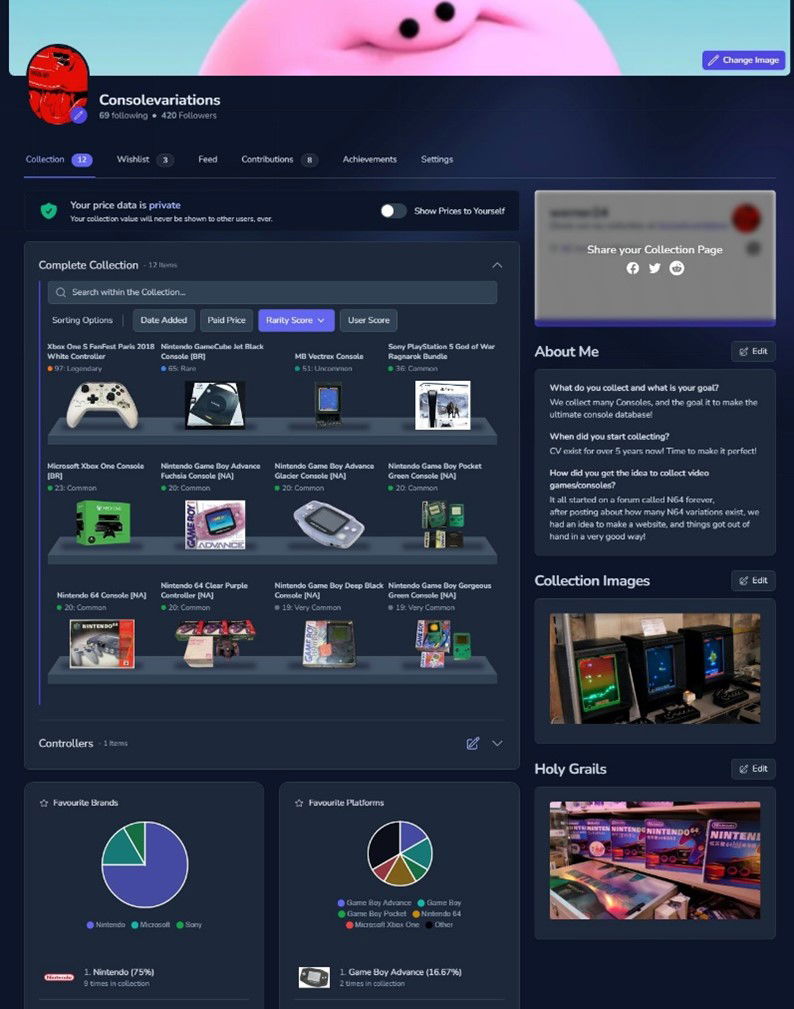 We made sure all users can create their collection even faster and easier as ever before.
ADDING: Every variation can be added to your collection. It's possible to assign a price and condition with one click.

PRIVACY: Keep in mind that all the prices you enter are completely private!

YOUR SHELF: The layout has been changed to look like your collection is on display!

SORTING: It's now possible to sort your collection

LISTS: Create a "list" with specific variations you like. Choose a specific brand or maybe you are collecting all Spongebob related variations and would like to organize those in a separate list. It's all possible now!

SEARCH: It's now possible to search variations inside someones collection.

STATS: Detailed graphs are added to calculate which item you love most and which item you have collect.

GAMEROOM: You can add a background story to your collection and add pictures to your personal game room. Which can also be shared to others.
Your Wishlist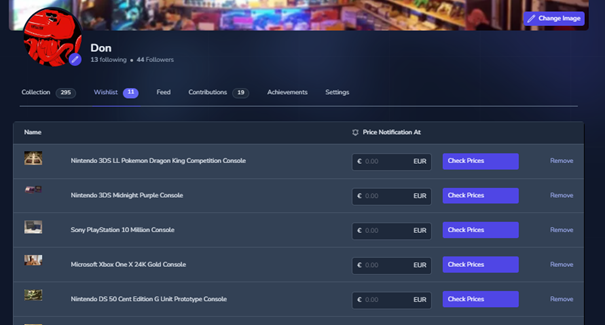 If you don't have a specific console, but you really want it then we have a new feature that helps you to obtain it!
ADDING: Every variation can be added to your Wishlist.

PRICING: When assigning a variation on your Wishlist, it's now possible to assign a price with how much you would be willing to spend. The price is private and only you can see it of course.

PRICE NOTIFICATIONS: You are now able to set a price notification per wishlist item. When a variation is for sale and drops below your desired price, then you will be notified by email. Please note: The price notifications feature is currently not active, but will roll out in a future update. However, you can already set your desired price notifications so you'll be all set when the feature will roll out.

COMING SOON: We will add more features to the watch list like Searching, and sorting! Be sure to check it out every now and then!
Your Profile

We made the profile page more accessible and 2rewarding looking" since we REALLY appreciate all you do for us.
COLLECTION: Variations you have in your collection.

WISHLIST: Variations you want to have.

SOCIAL FEED: Your posts in the social feed.

CONTRIBUTIONS: All pictures and variations you have uploaded so far.

ACHIEVEMENTS: Showing all achievements you own and see who else owns them.

SETTINGS: Where you can fill in your preferences/change profile pictures or password.
Adding a new Variation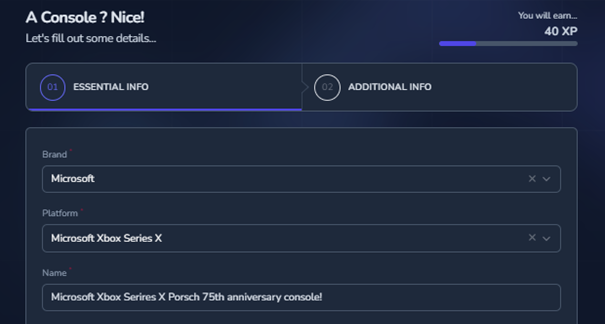 Users love to add new variations to the site and now we made it much easier and it will get approved way faster.
IMAGES: We made sure an image is mandatory when uploading a new variation to confirm its legitimacy

DUPE PROTECTION: To prevent duplicates when entering a title, you will see some examples of items that were already on the site while adding. Maybe it's there already!

ROTATE IMAGE: We included a new feature to make it possible to turn the image if it's rotated! Also uploads are way faster!

STORAGE: It's possible to upload up to 128 images per variation.

DESIGN: We made buttons instead of a dropdown menu with the options for better navigation

EDIT WHILE PENDING: You can now edit variations you have submitted and are pending after you have submitted them!
Notifications
Get up to date with all your contributions and updates.
You get notified when:
We approved your submission, pictures or adjustments

Someone tagged you on the social feed

Someone comments on your feed posts

A user you follow posts something

Someone comments on a collectible you submitted

When we (admins) has send you a personal message
When it's a bit too much you can adjust this in your profile settings
Profile Settings

We have included an option to enable 2FA verification to make your account even more secure.

It's possible to turn every section of your profile private if wanted.
Other Changes and Future Projects
CV 3.0 has just started so it's all based on the user experience:
BLOGS: Blog posts will more pleasant to look at. We plan to make many stories in the upcoming weeks, since it's must faster to make one and more fun!

YOUTUBE: We can now include YouTube embeddings.
Rarity Score
ACCURACY: We will have a more accurate rarity score than before based on a more complex algorithm.

BUG FIX: Items can now have a rarity of 100!
Multi Language!
LANGUAGES: The website will now be available in more different languages!

NATIVE: For now it's English and Dutch, but more languages are on the way, since we do not want to use a translation tool with errors, we want the users with their native language to translate it. We'll come back to this shortly.
The Level Up system
EXP: The EXP you gain are more balanced now. Some of the more invested users will have the option to get more levels when the level cap has been reached.
New Brands
BRANDS: To celebrate the new website, we added a new brand! Introducing, MB! They are known for having the Vectrex and of course the Microvision.

More brands will be added very soon!
We hope this was a nice guide throughout the new CV website and we welcome you to experience the BRAND NEW console database made with all the love, sweat (and money) we could bring up to give the best experience back to you!
Your Consolevariations Admins